LA MEZCLA
La Mezcla is a polyrhythmic, multidisciplinary San Francisco-based dance and music ensemble rooted in Chicana, Latina and Indigenous traditions and social justice. Founded in 2014 by Vanessa Sanchez, their work brings together Tap dance, Son Jarocho and Afro-Caribbean rhythms to bring the often unseen histories and experiences of communities of color to stages, streets and fields. Through elaborate rhythmic arrangements and choreography, performances by La Mezcla cross musical genres and dance styles.
VISIT LA MEZCLA'S WEBSITE
UPCOMING SHOWS:
THE YARD PRESENTS "AN AFTERNOON WITH LA MEZCLA," AN INTERACTIVE, FAMILY FRIENDLY VIRTUAL CONCERT!
May 8th 12pm PST/ 3pm EST- Tune in to the virtual event that features a live host, live movement workshops and pre-recorded performances! Click here for The Yard's full 2021 season!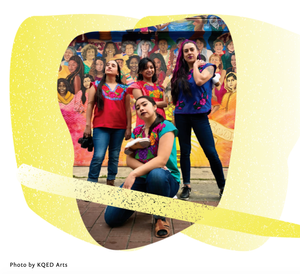 MEDIA & PRESS: